Faro Airport Arrivals (FAO)
Not all flights may be showing. If not available use search above to find your flight by airline, airport or flight number.
Origin
Airline
Flight no.
Scheduled
Est./Actual
Status
Paris (ORY)
Transavia
TO7678
06:15
Scheduled
Belfast (BFS)
easyJet
U23041
06:25
Scheduled
Amsterdam (AMS)
Transavia
HV5355 expand_more(2)
06:50
Scheduled
Amsterdam (AMS)
Delta Air Lines
DL7496
06:50
Scheduled
Amsterdam (AMS)
KLM
KL2667
06:50
Scheduled
London (STN)
Ryanair
FR5785
06:55
Scheduled
London (LGW)
easyJet
U28533
07:10
Scheduled
Manchester (MAN)
easyJet
U22215
07:15
Scheduled
Eindhoven (EIN)
Ryanair
FR5769
07:35
Scheduled
Dublin (DUB)
Ryanair
FR7032
07:35
Scheduled
No flight arrivals were found at Faro Airport.
Flight Arrivals at Faro Airport
There are a significant number of car rental companies at Faro Airport, with car hire suppliers such as Auriga Crown, Avis, Budget, Europcar, Hertz and Sixt having rental desks located in the arrivals areas. The service teams welcome customers from 7.00 am to 10.00 pm every day of the year.
Right next to the arrivals areas in front of the terminal are the taxi stands, where passengers can hire a private transfer to nearby Faro city center, a 4 km journey that should cost around EUR 10.00 for a 4-seater taxi and around EUR 13.00 for a 6-seater one. Plenty of airport bus services link the airport with the EVA main bus terminal in Faro, where Faro arrivals have access to a variety of bus lines serving the Algarve and the rest of Portugal.
Arrivals at Faro Airport don't have access to a train link connecting the airport with the rest of the country or even the city of Faro, but in the city center there is a train station providing onward travel options that include Lisbon, Portugal's capital. From there passengers can access all major cities in the country as well as board trains to Spain.
Faro harbour and the seaside a favourite with tourists, who come to the Algarve for its excellent climate, wonderful beaches, superb golf and water sports facilities and the country's rich culture and heritage. Lisbon is a three hour drive away (277 km), but the village of Silves (62 km) makes for a great day trip destination, complete with an amazing Moorish castle, governor's palace and cathedral. Across the border in Spain, Huelva and Seville beckon – just a 2 to 2.5 hour drive by hire car.
Inside the terminal arrivals will find the usual amenities such as shops and Duty Free shopping for accessories, fashion, jewelry and newspapers, guide books and maps. The terminal also provides business travelers with conference facilities for up to 65 people and Faro Airport arrivals seeking access a telephone, fax, TV and video for a business meeting will find such at the conference room.
Arrivals at Faro, who are passengers with mobility issues, will find ramps and lifts provide access to all necessary public areas and disabled toilets are located in several different parts of the terminal, too.
For cash requirements there is a Banco Totta e Acores service desk and ATM machines are also in various locations in the terminal in addition to a bureau de change for currency exchange requirements.
Faro Airport arrivals in search of refreshments and a snack will find several restaurants and snack bars in the terminal, where waiting areas allow passengers to while away the time before boarding their connecting flight. The airport also provides long and short-term parking spaces just outside the terminal. Lost luggage should be reported at the Lost and Found desk.
Faro arrivals won't find hotels in the immediate vicinity, but the city is so close by that there is no problem getting accommodation close to the airport. The most popular hotels are Hotel Monaco, Hotel Ibis Faro, Hotel Faro and LTI Alfamar Beach and Sport Resort. The months of May to October are the busiest of the year and passengers are advised to book their flight and hotel accommodation well in advance. This can easily be done by going online.
Faro may have a historic city center, but it is a lively, young city thanks to the resident university. Far Airport arrivals won't have any problem finding a good choice of restaurants, bars, nightclubs and cinemas during their stay in the Algarve. All hotels, irrespective if they are located at the seafront or in the historic Old Town will only be a 15 minute drive away.
Was your flight delayed or cancelled?
You may be eligible to receive up to 600 EUR compensation per person in your party..
Claim Now!
Beat the Queues
Don't stand sweating for 45 mins waiting for Security. Get a fast track and get through in 5 mins or less.
Book now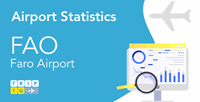 Faro Airport's Q3 2023 Triumph: Passenger Numbers Climb by 16.89%, Surpassing Pre-Pandemic Figures