FARO AIRPORT (FAO) INFORMATION
Origin
Airline
Flight no.
Scheduled
Est./Actual
Status
No flight arrivals were found at Faro Airport.
Destination
Airline
Flight no.
Scheduled
Est./Actual
Status
No flight departures were found at Faro Airport.
Car Hire at Faro Airport
UNBEATABLE VALUE CAR RENTAL
Free Amendments | Free Cancellations | No Card Fees




Faro Airport - All Information on Faro International Airport (FAO) Faro Airport
8006-901 Faro, Portugal
phone +351 289 800 800
phone+351 289 889 407 (Lost + Found)
emailfaro.airport@ana.pt
emaillostfound.fao@portway.pt (Lost+Found)
call_end+351 289 818 802 (fax)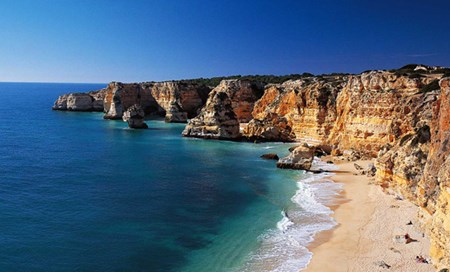 Faro International Airport has up to now been a small destination located some 4 km distance out of the city of Faro in Portugal. Rising passenger demand resulted in some extensive renovation and expansion works being carried out between 2009 and 2013. In July 2017, Faro airport unveiled a brand new terminal building which represented a €40 million investment. Some 8.68 million passengers passed through the Airport in 2018, slightly down by 0.5% from 2017 figures. Whereas Lisbon & Porto Airports have increased by +8.9% and +10.7% over the same period.
During the summer holiday season, which runs from May to October, Faro is at its busiest, so much so that airlines have to put up with a slot coordinated system. Since the refurbishment and expansion at the airport, numbers have been steadily rising, particularly since Ryanair decided to base seven aircraft at the airport in 2010, opening up the budget flight market.
Arrivals and Departures at Faro Airport
Transfer Services at Faro Airport
The airport has a total of 60 check-in desks and 36 boarding gates. It offers passengers the choice of a vast range of car rental companies, which have rental stations located in the arrivals area. The rental desks of car hire suppliers such as Auriga, Avis, Budget, Europcar, Hertz and Sixt are open for business from 7.00 am to 10.00 pm daily.
Being so near the A22 motorway connection, car hire is a convenient option for many holidaymakers heading for the Algarve and the capital Lisbon or to the Spanish border.
Among the many international and domestic airlines using Faro Airport are the carriers Aer Lingus, Air Berlin, Austrian Airlines, British Airways, Easyjet, Germanwings, Lufthansa, Jet2.com, Monarch, Niki, Norwegian Air Shuttle, Ryanair, Scandinavian Airlines and Thomas Cook Airlines.
Passengers have a large choice of destinations – from Brussels in Belgium to Katowice and Warsaw-Chopin in Poland, from Almeria in Spain to Vienna in Austria, from Copenhagen in Denmark to Bristol, Cardiff, Birmingham, Glasgow and London in the United Kingdom.
Coming out of the terminal building, passengers are greeted by a forecourt lined with palm-trees and mountains in the background. The taxi rank is located just outside the terminal, next to the arrivals area. The cost for a 4-seater taxi into Faro city center is around EUR 9.00 during the hours 6.00 am to 9.00 pm and EUR 10.00 during 9.00 pm and 6.00 am. A 6-seater taxi will cost on average EUR 11.00 and EUR 13.00 during those hours.
The airport has excellent public transport connections via buses that provide a service between Faro's main EVA bus terminal and the airport. The EVA bus terminal offers passengers access to many bus routes across the Algarve and beyond. Buses start their service at 5.00 am and continue their service until 23.15 pm.
Bus shuttle service can also be booked in advance. This service stops near all the major resorts within a certain distance of the airport. From the city center passengers also have onward travel options via train. Trains from Faro station do not cross over into Spain, but there is a service connecting Faro with Lisbon, from where passengers can travel into all parts of Portugal and into Spain. There is no train link directly from the airport.
The major motorway and dual carriageway connections from Faro Airport are the aforementioned A22, the EN 125, IC1, N2, N120, N122 International and N431 (Huelva, Spain) / A22 (Via do Infante, Portugal). The most important resorts close to Faro are Vale Do Lobo, Vilamoura, Portimao, Lagos and Quinta Do Lago.
From Faro it takes around 2.5 hours to reach Seville in Spain, a popular choice for many visitors to the Algarve, who want to spend a couple of days at the Spanish Costas during their Portuguese holiday. A trip by hire car to Lisbon, Portugal's capital, takes around 3 hours.
The Algarve is famous for its wonderful beaches and water sports facilities, but also renown in the international golfing jet set for some truly outstanding golf courses. With a temperate climate all year round and convenient access through The Faro Airport, the Algarve is a perennial favourite with holidaymakers.
Hotels near Faro Airport
There are a number of hotels to suit all budgets and requirements at or near Faro Airport.
Parking at Faro Airport
See options for parking services at Faro Airport.
Additional Services and Amenities at Faro Airport
At Faro Airport you will find the usual array of bars and restaurants, airport lounges and shops.
Things to do in Faro City
There are a number of activities to suit all ages and interests in the region - see a selection of tourist activities in Faro City, Portugal.
Useful Information about Faro Airport