Faro Airport Departures (FAO)
Not all flights may be showing. If not available use search above to find your flight by airline, airport or flight number.
Destination
Airline
Flight no.
Scheduled
Est./Actual
Status
Basel (BSL)
easyJet
U27521
06:00
Scheduled
Nuremberg (NUE)
Ryanair
FR5788
06:00
Scheduled
Porto (OPO)
Ryanair
FR9497
06:00
Scheduled
Paris (ORY)
Transavia
TO7681
06:00
Scheduled
Lisbon (LIS)
TAP Air Portugal
TP1900 expand_more(8)
06:00
Scheduled
Lisbon (LIS)
Air Canada
AC2707
06:00
Scheduled
Lisbon (LIS)
Azores Airlines
S48420
06:00
Scheduled
Lisbon (LIS)
Azul Linhas Aereas
AD7271
06:00
Scheduled
Lisbon (LIS)
Emirates
EK4788
06:00
Scheduled
Lisbon (LIS)
Lufthansa
LH6973
06:00
Scheduled
Lisbon (LIS)
Luxair
LG1974
06:00
Scheduled
Lisbon (LIS)
Turkish Airlines
TK8111
06:00
Scheduled
Lisbon (LIS)
United Airlines
UA6868
06:00
Scheduled
London (STN)
Ryanair
FR9143
06:00
Scheduled
Geneva (GVA)
easyJet
U27525
06:15
Scheduled
London (LGW)
easyJet
U28528
06:20
Scheduled
Weeze (NRN)
Ryanair
FR5780
06:25
Scheduled
Dublin (DUB)
Ryanair
FR7031
06:30
Scheduled
Newquay (NQY)
Ryanair
FR9225
06:45
Scheduled
Newcastle (NCL)
Ryanair
FR2341
06:50
Scheduled
Bristol (BRS)
easyJet
U27507
07:00
Scheduled
Knock (NOC)
Ryanair
FR2451
07:00
Scheduled
Manchester (MAN)
Ryanair
FR4051
07:30
Scheduled
Birmingham (BHX)
Ryanair
FR2912
07:55
Scheduled
No flight departures were found at Faro Airport.
Flight Departures at Faro Airport
Faro Airport departures are handled in a single terminal that serves more than 8 million passengers every year.
There are a total of 60 check-in desks and 36 boarding gates for passengers use and some of the international and domestic airlines providing flight routes to and from Faro Airport are Aer Lingus, Austrian Airlines, Air Berlin, BmiBaby, Easyjet, Germanwings, British Airways, Lufthansa, Norwegian Air Shuttle, Scandinavian Airlines and Ryanair, who began using the airport in 2010 by basing seven aircraft there.
A European wide selection of destinations is available to Faro departures, from Madrid in Spain to Copenhagen in Denmark to Bristol, Cardiff, Birmingham, London and Liverpool in the United Kingdom or Vienna in Austria and Cologne in Germany.
Faro Airport has a large number of car rental providers offering their services to passengers and thanks to the parking facilities being within walking distance of the terminal, departures at Faro Airport can dispose of their rental car, key and documents with great ease and convenience at the end of their rental contract. Car hire suppliers include reputable companies like Auriga Crown, Avis, Budget, Europcar, Hertz and Sixt. The service desks are open from 7.00 am to 10.00 pm daily.
Departure passengers will be dropped off by their taxi driver at the arrivals area of the terminal – where the taxi rank is located. A journey from nearby Faro city center is just a 4 km trip, therefore the fare should not cost more than EUR 10.00 for a 4-seater taxi or EUR 13.00 for a 6-seater one, depending on the time of day. After 9.00 pm the fare increases by a couple of Euros, but not more. There are numerous private shuttle transfers providing low cost transportation to Faro and other resorts along the coast.
Airport buses connect Faro city center with the airport via the EVA main bus terminal. Bus lines criss-crossing Portugal and the Algarve arrive at the main bus terminal from the coastal resorts and major cities, making onward travel from other parts of the country easy for Faro Airport departures.
There is no direct train station at Faro Airport, but departing passengers can travel into Faro city center, where a train station is located.
The elongated terminal building provides the usual facilities and services such as Duty Free shopping for accessories, fashion, jewelry and basic shopping for newspapers, magazines, guide books or maps. Business travelers will find a fully equipped conference facilities for up to 65 people is available for their use, where a telephone, fax, machine, TV and video equipment is part of the hire agreement.
Faro is a barrier free airport and passengers with reduced mobility will find ramps and lifts all public areas and there are plenty of disabled toilets located throughout the terminal.
Passengers departing from Faro, who have last minute cash requirements can either use the services of a branch of Banco Totta e Acores or the various ATM machines in the terminal. There is also a bureau de change for passenger use.
Faro departures in need of refreshment prior to their return flight have the choice of several restaurants and snack bars. For motorists there are long and short-term parking spaces available within a short walk of the terminal.
Was your flight delayed or cancelled?
You may be eligible to receive up to 600 EUR compensation per person in your party..
Claim Now!
Beat the Queues
Don't stand sweating for 45 mins waiting for Security. Get a fast track and get through in 5 mins or less.
Book now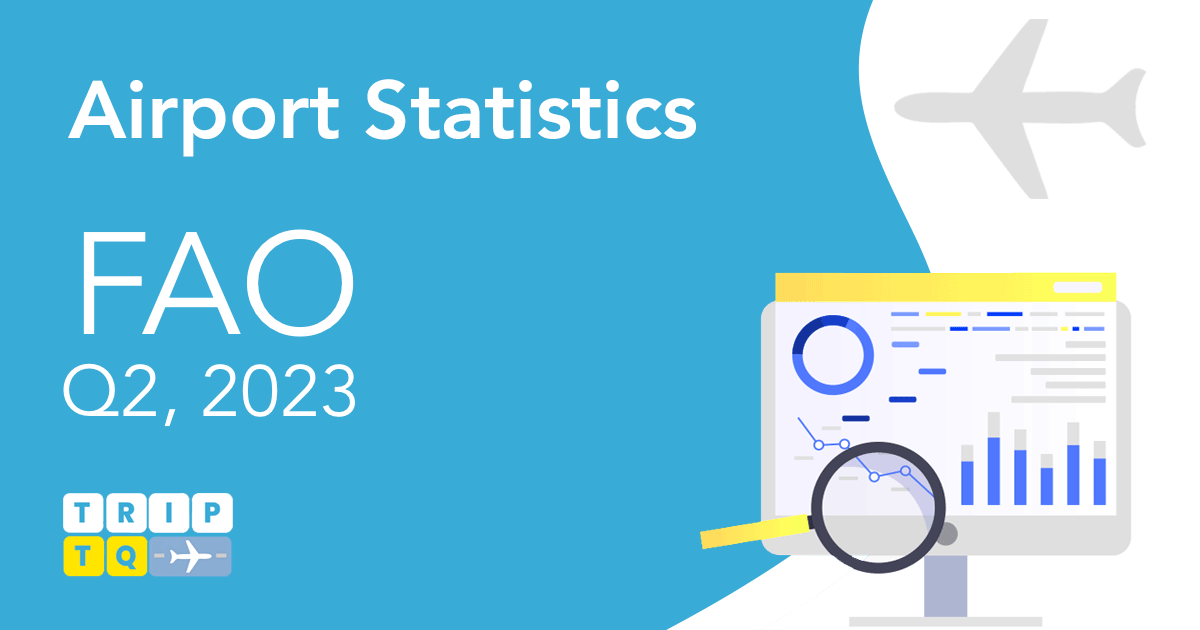 In Q2, Faro Airport achieved a record passenger traffic of 14% over the previous year. This also represents a 3% increase in passenger numbers compared to pre-pandemic levels.